13–14 APRIL 2019 YORK WESTERN AUSTRALIA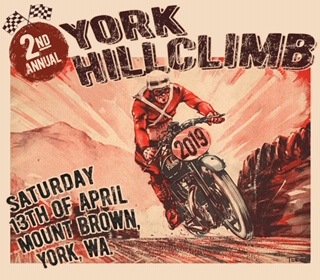 MOUNT BROWN HILL CLIMB
Head to York early on Saturday morning – or stay over Friday night – and catch the exciting Mount Brown Hill Climb. It's a full day of action, so get up there early for a good spot!
The Vintage Hill Climb on Mount Brown will be a spectacle of riders and their machines against the mountain, trying to crack the nominated time. A selection of vintage and classic machines from the 1920s up to the late 1970s will be participating at pace.
Riders will be given two timed passes and will need to replicate the next three timed passes as close to their nominated time as possible.
The event is run by enthusiasts from the Western Australian Vintage motorcycle community and is a major attraction of the York Motorcycle Festival weekend. The Hill Climb runs from 9am – 5pm on Saturday 13th April 2019. 
Want to watch the Hill Climb? Here's everything you need to know!
PARK at the York Cemetery, Herbert Road – look for signs directing you to the parking area from town.
CATCH THE SHUTTLE BUS from the Cemetery Bus Pick Up Zone (Look for signs!) up to the viewing area and back.
TAKE A WALK if you'd rather – it's a short 600m walk from the parking area to the viewing area (but it is a bit steep!) Follow the arrows up the Hill if you're walking.
BRING a fold up chair, sunscreen and a hat.
There are toilets and refreshments available to purchase at the viewing area, and the best thing is that the Hill Climb event and shuttle bus service is all free to watch and family friendly, so get in on the action!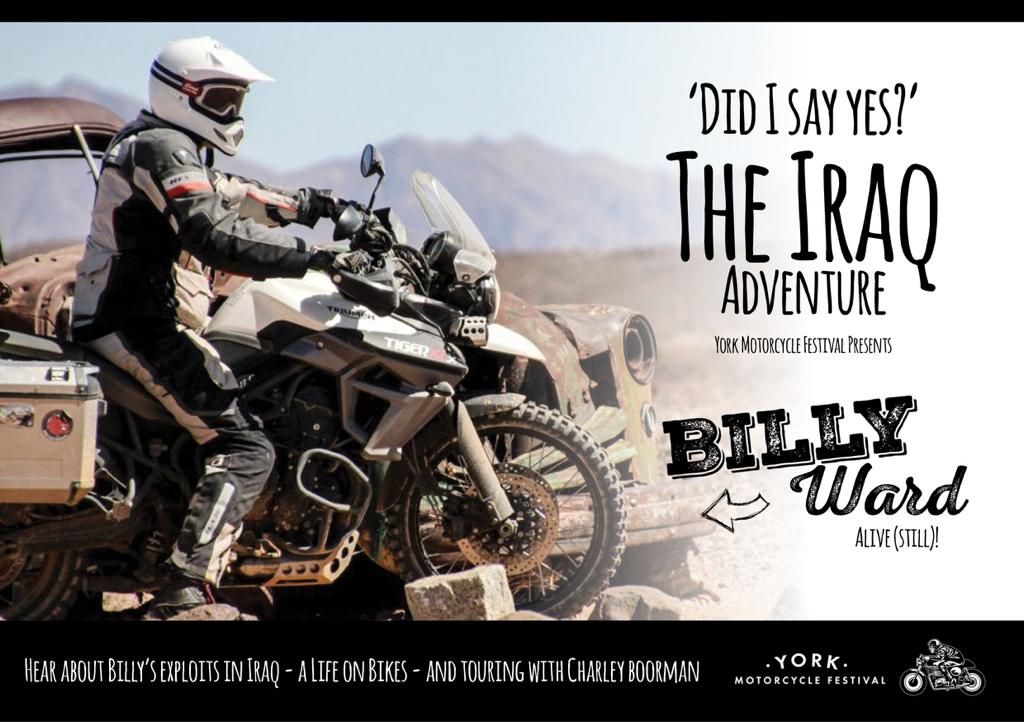 SPECIAL GUEST - BILLY WARD
Billy Ward may not be a household name – but in the motorcycle industry he is a legend!
Billy Ward, AKA Billy Biketruck, Charley Boorman's manager, is currently making his way through an Aussie adventure, which is a far cry from his recent escapades in one of the most dangerous war zones in the world!
Find out how Billy ended up riding a police motorcycle to the Mosul Frontline in Iraq with Claudio von Planta (camera-man from Long Way Round / Long Way Down) – and was very happy to be there! Hear Billy's stories and see some exclusive film footage at this year's York Motorcycle Festival.
"It started – as so many good stories do – with excessive alcohol consumption, and ended up with a trip through a war zone," Billy said.
"Travelling with Claudio von Planta, of Long Way Round fame, was one of the most exciting adventures of my life. Though standing on the Front Line in Mosul – surrounded by military of one type or another – listening to the coalition jets above made me ponder "What the feck am I doing here?"
"An incredible journey into the Middle East with Claudio opened up my eyes to many things – political – social – economic – power and control. Our legacy, if we have one should be our understanding. My story is about how I fell into this adventure and how wonderfully good and bad, people can be," Billy said.
At the York Motorcycle Festival, Billy will tell his story and present some videos and photos of his trip in what he calls an exciting, funny and sad story, with only a little bit of nudity!
 Catch Billy at the York Mill on Saturday 13TH April at 5pm, and Sunday 14TH  April at 1pm.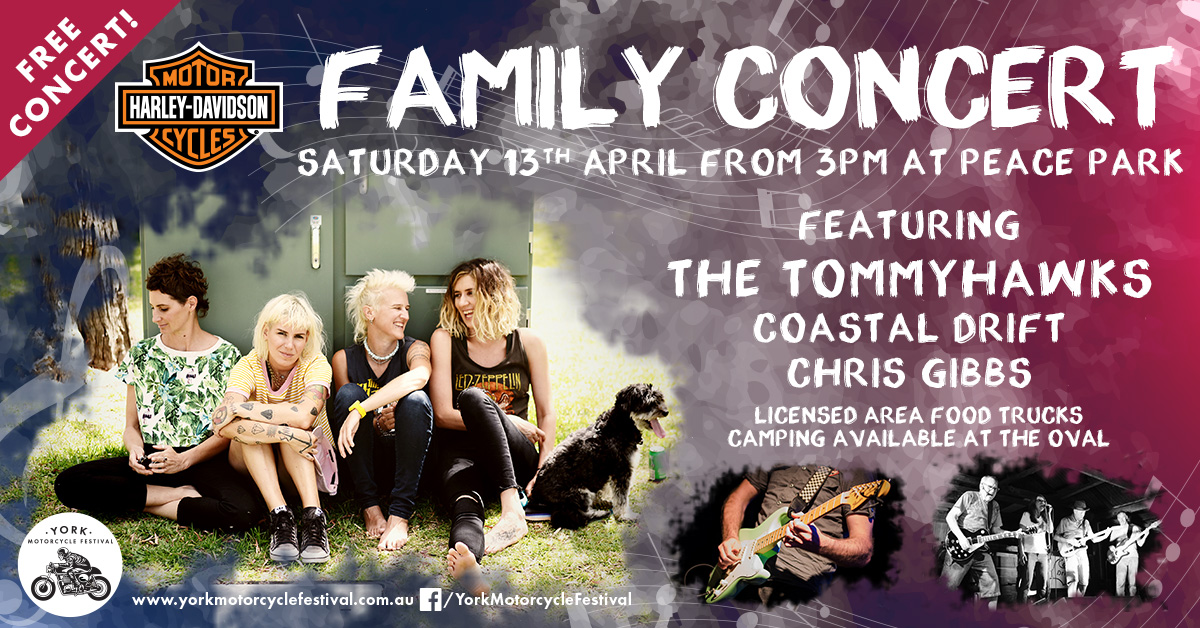 HARLEY DAVIDSON FREE FAMILY CONCERT
Head to York on Saturday evening 13th April for the exciting Harley-Davidson free family concert!
The concert is held in Peace Park, and this year will feature a line-up of local acts as well as recognised Perth bands.
The concert will open with York muso Chris Gibbs, followed by groovy band Coastal Drift. The headline act for 2019 is Perth Indie band The Tommyhawks.
The Tommyhawks are rising stars in the Perth music scene. This fierce femme-fatale foursome explode with quirky, blues-fueled songs, and are sure to be a hit when they take to the Harley-Davidson stage at the York Motorcycle Festival!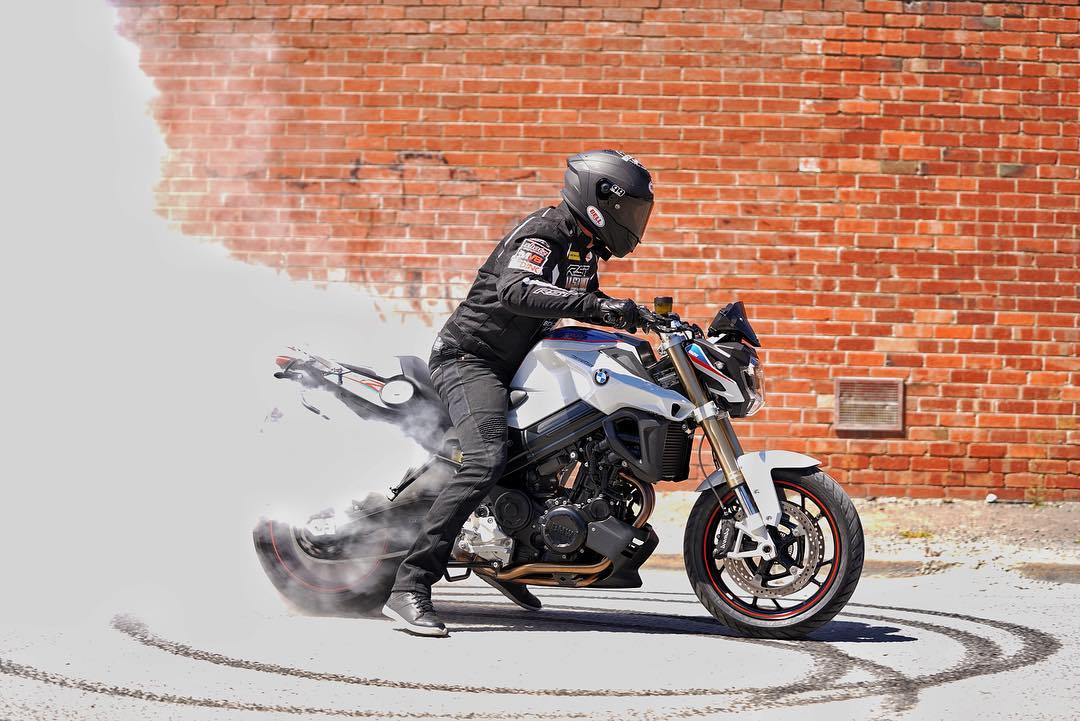 STUNT RIDER LUKEY LUKE
Never before seen at the York Motorcycle Festival, BMW stunt performer Lukey Luke will be at the Festival to make a heap of noise and show off his skills! 
Lukey Luke is one of Australia's Leading Stunt Rides and on track entertainers, specialising in performing Streetbike Stunt Shows at a wide variety of events both large and small around Australia and overseas.
After a long and successful career riding for some of motorcycling's biggest brand names, Lukey has blasted into 2019 in a new chapter with a new partnership, now teaming up with BMW Motorrad.
Luke will head to york on the Saturday to hang around and check out the Hill climb, and of course will be on his new BMW F800R on Sunday burning up South Street!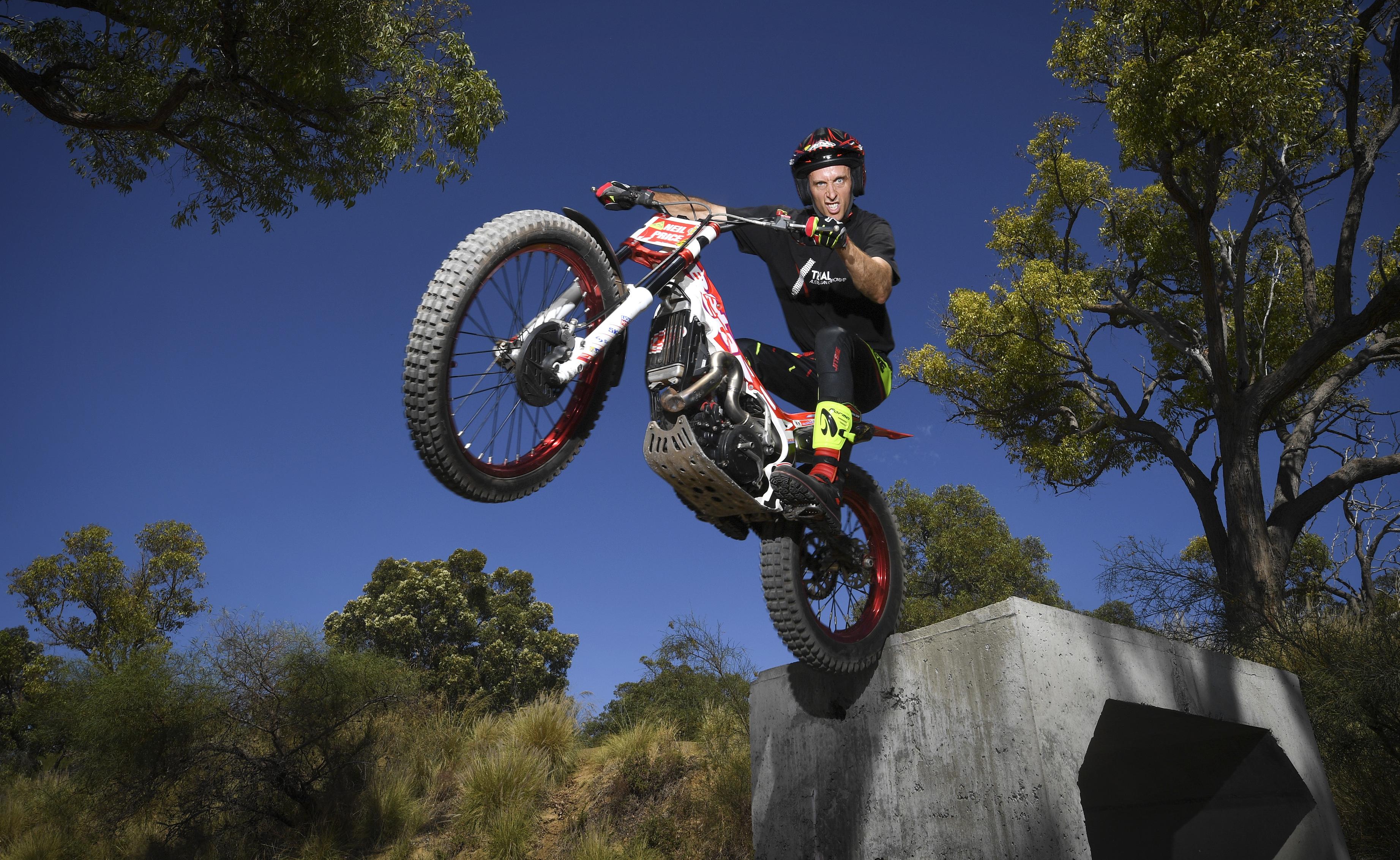 ADVENTURE BIKES AND TRIALS DEMOS WITH NEIL PRICE
Catch champion trials rider Neil Price as he shows his skills in trials. Neil also has all the latest info on getting involved in Adventure Bike riding.
Adventure Motorcycling is becoming increasingly popular as more and more people enjoy the freedom of getting offroad on a motorcycle.
Everybody likes to get away, and these days, adventure motorcycles are just as capable of taking on the rugged terrain as a 4WD. And for many, the experience of taking their bike off the beaten track far outweighs the comfort of being inside a vehicle.
Neil Price is one West Australian who can't get enough of a motorcycle adventure. Neil runs Moto Dynamics, and has a passion for training riders to equip them with the skills and knowledge they need to take on an outback motorcycling adventure.
At the Festival this year, Neil will not only be demonstrating his trials skills, but will be giving information and tips on how to get into adventure bikes.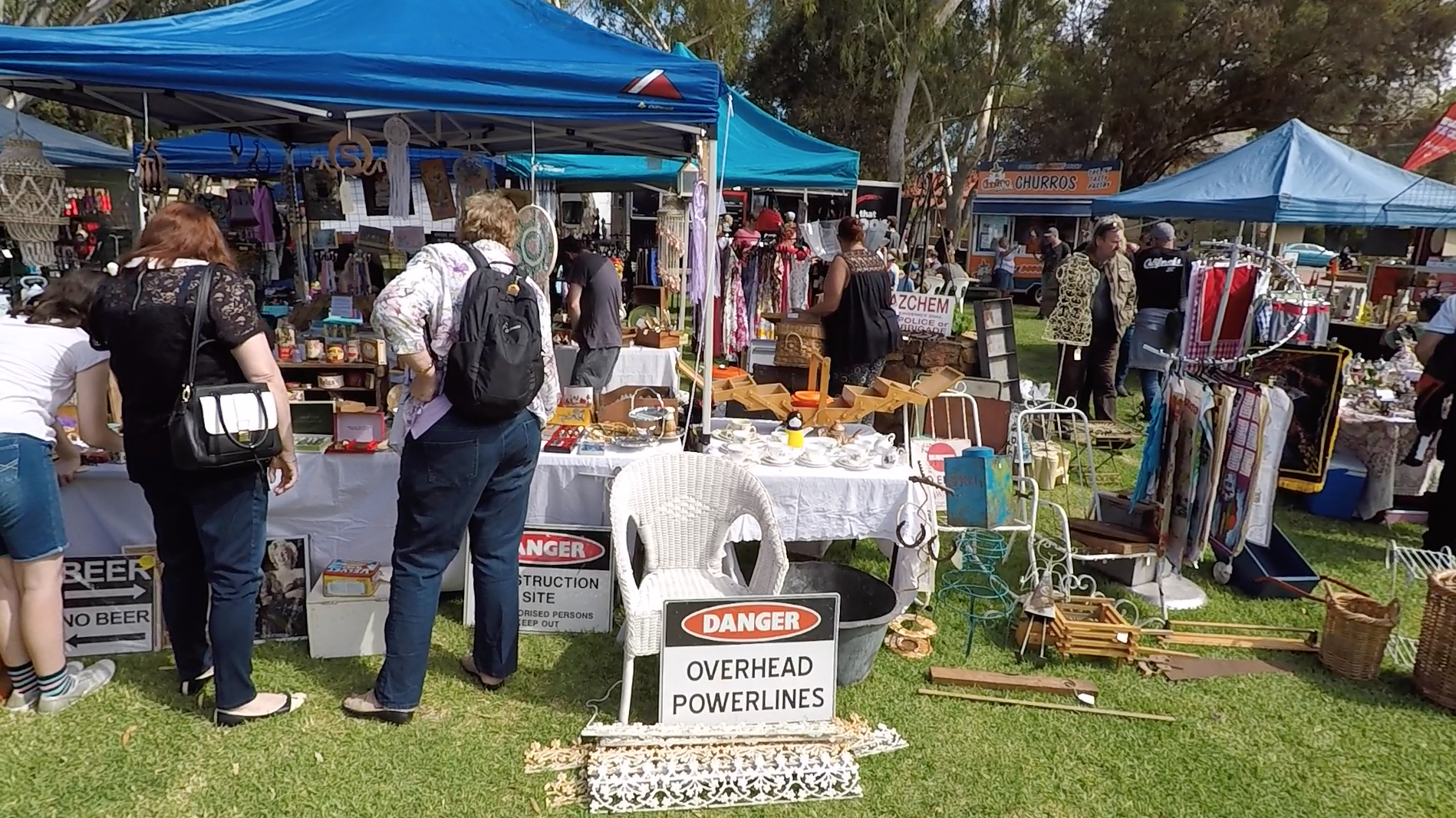 VINTAGE COLLECTIVE MARKETS
The Vintage Collective Markets will be set up in Peace Park on the Sunday for those who need that little extra shopping fix! The Vintage Collective Markets will feature a range of displays that focus on vintage, up-cycled, remade, reclaimed, recycled and vintage-style wares or services. Attractions as part of the Markets will include lids activities, food trucks and live music.
The Vintage Collective Markets have a huge following of loyal customers and patrons, and are well known for being more than just markets, but a celebration of all things retro! The inclusion of the Vintage Collective Markets means visitors to the Festival can enjoy browsing the stalls, enjoying the entertainment, and finding that unique purchase.
Vintage Collective Markets are open from 10am – 4pm on Sunday.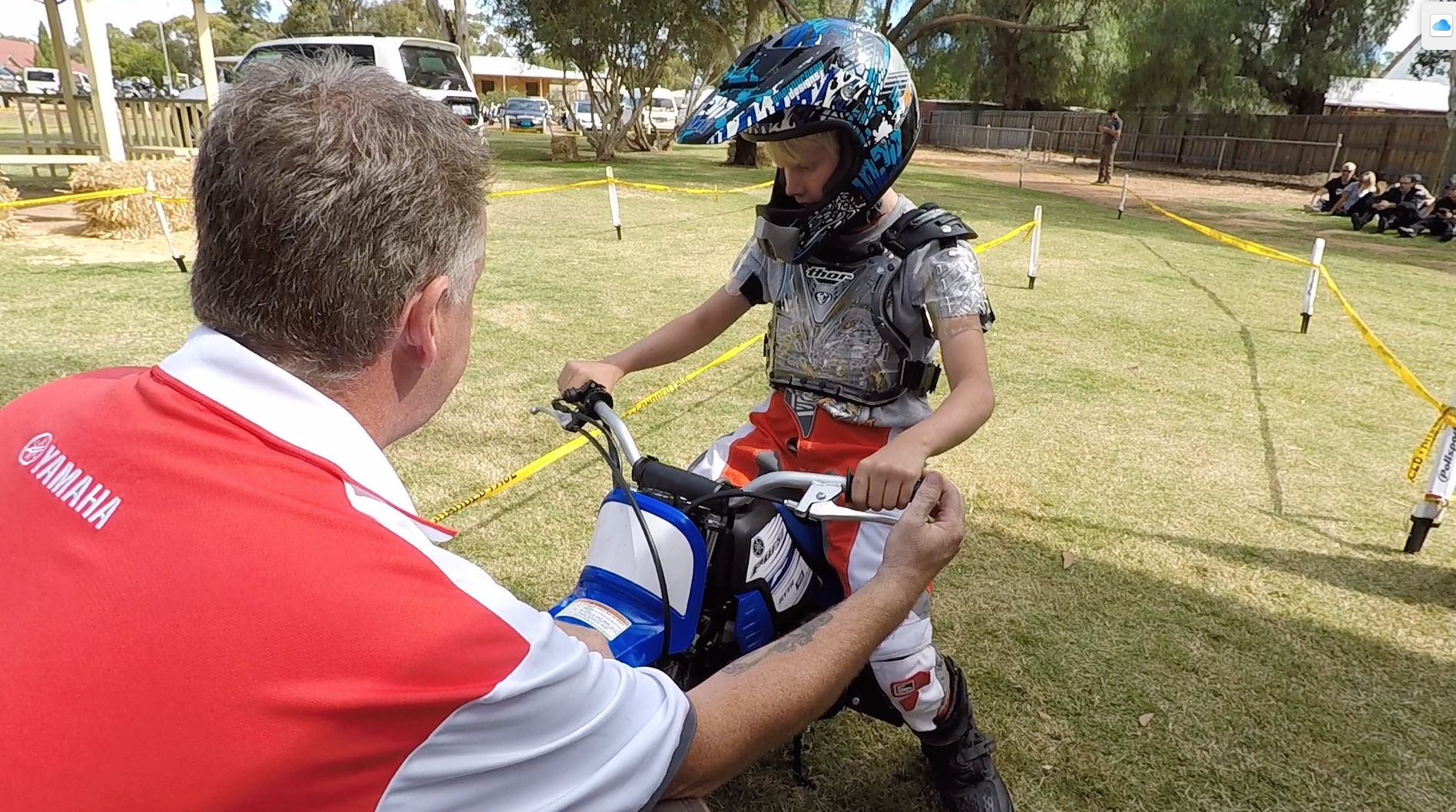 KID'S MOTORBIKE RIDES
Thanks to Motorcycle WA, kid's can test their own skills on two wheels. Come try riding on the specially designed track in Peace Park.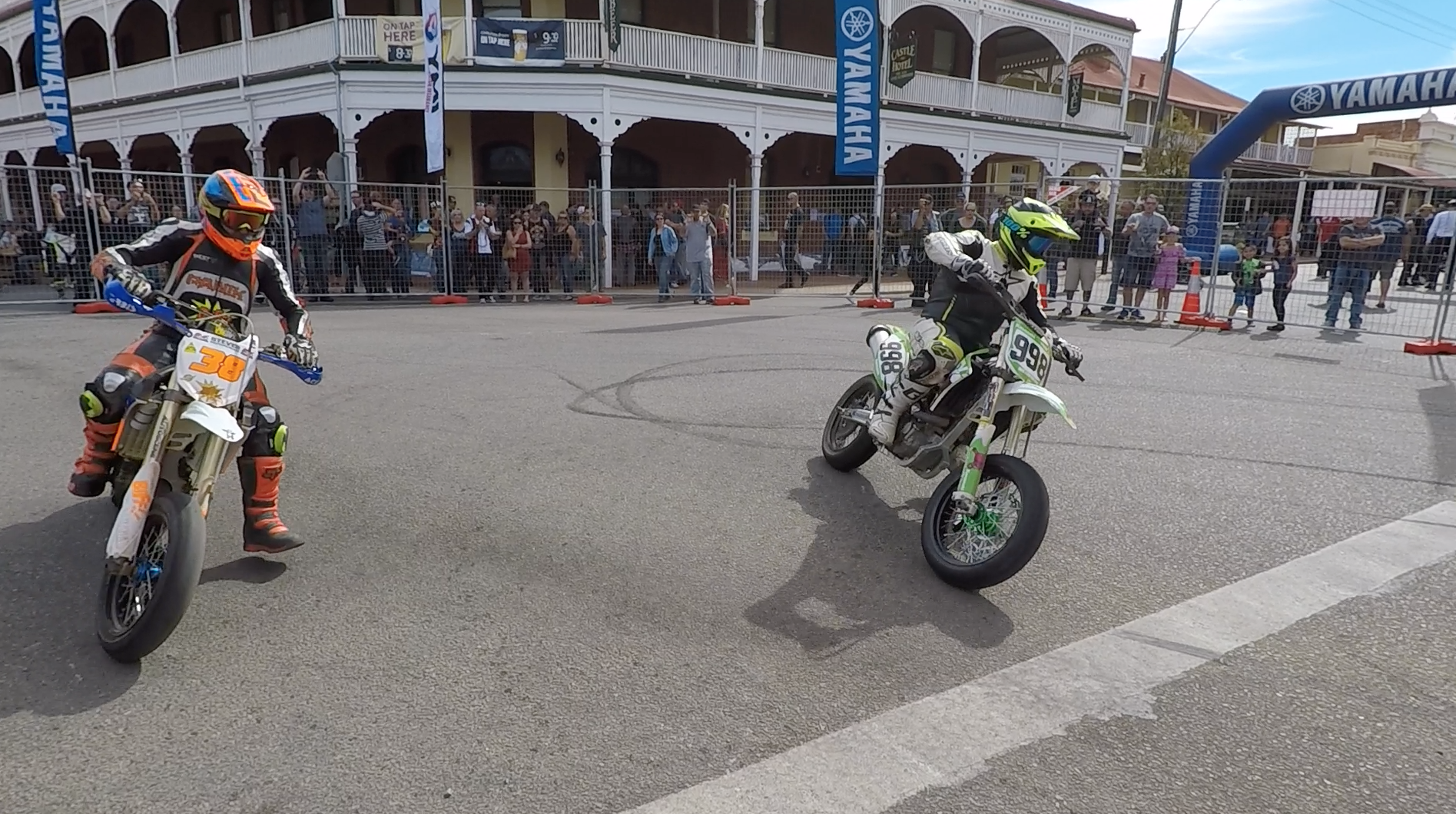 SUPER MOTO DEMO
Experience the excitement of motorcycle racing close up with Super Moto WA. The team will do race demonstrations on Sunday 14th April along South Street. It's loud, it's fast, it's not to be missed!